Accountability. Transparency. Integrity.
Wayne Johnson entered public service to hold public servants accountable and to build an open, transparent government. He began his work at Bernalillo County where he passed the state's strongest transparency law. In December 2017, Governor Martinez appointed him to the vacant State Auditor's position. It's a perfect fit for Auditor Johnson who has dedicated the office to revealing how tax dollars are being used and to making sure that all public bodies in New Mexico abide by their policies and the law.
Make a Donation!
Help Wayne reach Albuquerque voters with his message of a safe and prosperous Albuquerque. Please consider a contribution of $50, $100, $500 or more today!
Download a Petition
Wayne needs your help gathering petition signatures! Auditor Johnson must have 2,000 signatures by February 6th. Download a petition here!
I'm With Wayne!
We're always looking for good volunteers, places to put signs, and people who will help us get our message out. Click on "Click Here" below and tell us how you'd like to get involved!
Facebook Posts
Thanks to all who walked neighborhoods today! #RepublicanPartyofBernalilloCounty #RepublicanPartyofNewMexico #WJAuditor2018 ... See MoreSee Less
Strife among the Democrats. ow.ly/Bzmo30lsCWY ... See MoreSee Less
She just got caught is all...
Considering our state has been democratically run forever, and Farmington is THE number ONE worst place in America to raise your children Albuquerque is in the top 10. It is time to get rid of all of these people each and every one of them needs to get out of the office and let us have a fresh start! Including Susana Martinez I am so glad this is her last in this state! She has done nothing to help us but at least she is not actively working against us like the Democrats! Look at Heinrich and Udall how long have these two been in office and they have done nothing to help us! Susana Martinez actually is the one who appointed judge Brian dalley who just gave time served to a man who had over 5, 500 photos of child pronography! Facing 93 years this judge gave him one with time served he will be on our streets with unsupervised visitation in less than 4 months! Check the headlines pedophiles everywhere on our streets in New Mexico. You cannot leave your car or anything else it will not be there when you come back! Criminals literally have a 24-hour turnaround in the jail and back out! It's called Catch and Release and the judges in New Mexico or using it against us.
Thanks, Albuquerque FRW for a great event! Always enjoy the opportunity to talk about what I've been doing for eight months as your NM Auditor. #WJAuditor2018 ... See MoreSee Less
Keep Wayne Johnson as Auditor. Vote for him in November.
Keep up the good work,Wayne!!!
Load more
Blog Posts
How do you fill an $8 million budget deficit? If you're Bernalillo County the answer is simple – impose $30 million in new taxes! On March 28th, the Bernalillo County Commission will take final action on its latest tax increase, an increase that will impose an additional 3/16ths of a cent tax on every purchase…
Twitter

Aug 18, 2018 @ 14:15
Thanks to all who walked neighborhoods today! #RepublicanPartyofBernalilloCounty #RepublicanPartyofNewMexico #WJAuditor2018 https://t.co/SLqLmomYYP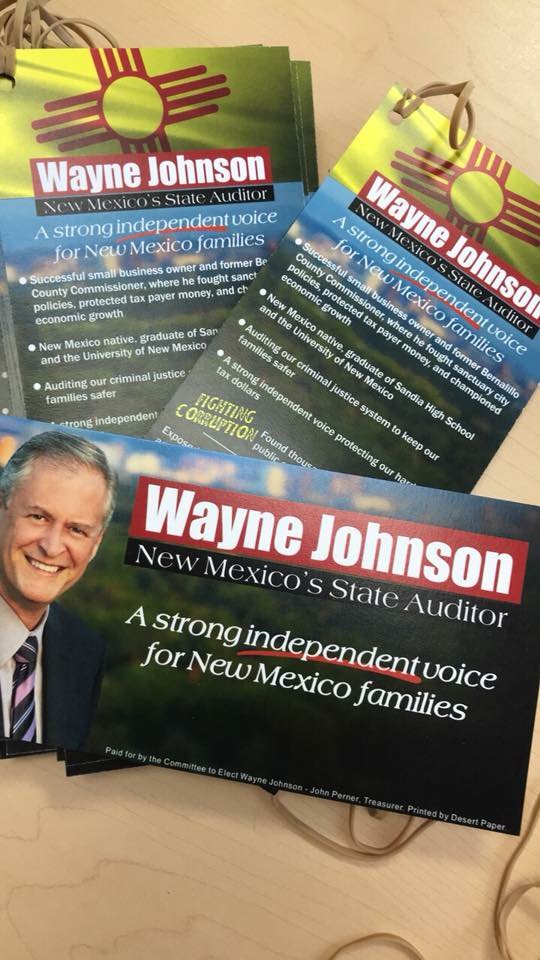 Aug 17, 2018 @ 18:50
Thanks, Albuquerque FRW for a great event! Always enjoy the opportunity to talk about what I've been doing for eight months as your NM Auditor. #WJAuditor2018 https://t.co/k1SOC8vXnN